home >> canine arthritis

Canine Arthritis
Dogs and Tart Cherries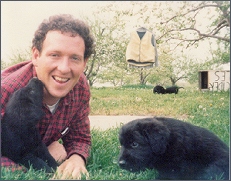 Neighbors here have been experimenting with giving their dogs dried tart cherries. A surprising number of older dogs suffer from some form of arthritis, and it can be sad to watch an old friend suffer.

There hasn't been any research on tart cherries and dogs, of course, so this is purely anectdotal. Some people have been baking up cherry dog biscuits, but most have been chopping up dried tart cherries into the dog's food. We do know that tart cherries enhance and bring out the flavor of meat and perhaps it has the same effect for dogs, as they seem to accept the cherries in their food.

Be sure to let us know if cherries help ease the suffering for your dog. We have some Internet resources about canine arthritis listed below.

Canine Arthritis information and care
At "Dogs with Arthritis" you will learn about canine arthritis and how to help your dog overcome its potentially debilitating effects. Read about the diagnosis of canine arthritis and the common methods to treat dog arthritis. Find out about effective pain management steps you can take at home to help your canine companion live an active and comfortable life.

Complementary, alternative, and Holistic Veterinary Medicine
by Susan G Wynn, DVM
Anyone who has lived with an older, stiff and disabled dog has experienced the heartbreak of arthritis. This slowly progressive disease starts with almost undetectable discomfort, and may progress to the point that the animal refuses to stand, walk outside for constitutionals, or even eat. Arthritis actually comes in different forms, with different causes, and can attack dogs and cats regardless of breed or age.

Pet Arthritis Resource Center
This site is an informational resource for anyone looking for information on arthritis in dogs, arthritis in cats, hip dysplasia, arthritis treatments, and glucosamine for pets

Key Risk Factor for Canine Arthritis Identified
Drawing upon an international database of some 16,000 dogs, researchers at Penn have pinpointed what's believed to be the first solid predictor, in any species, of future arthritis. The scientists have found that laxity in the hip joint--several millimeters' worth of excessive play between the ball of the femur and the hip's socket--correlates strongly with the advent of hip arthritis later in a dog's life.

Canine Arthritis
Does your dog seem surprisingly inactive? Is your dog constantly reluctant to lie down or get up? Do you hear a "clicking" noise when he is walking? Or is there any change in your dog's behavior that seems to indicate pain? If so, your pet may be one of many that suffer from arthritis.

Arthritis in Dogs
"Ask Dr. Mike" about canine arthritis at the VetInfo Digest
VetInfo Digest is a monthly compilation of what's going on in veterinary health care. New product information, new treatment options, and serious health care problems will be addressed, as well as a look at the controversial issues veterinarians are facing as pet health care technology advances.