home > about us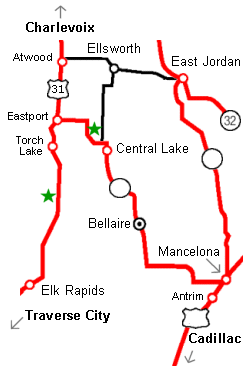 King Orchards
Our Farm Markets
Our markets are open 7 days a week from July through November: Monday through Saturday 9 am til 6 pm; Sunday 12:30 til 6. In November as the days get shorter we usually start opening at 10 am, and closing at 5 pm weekdays and closing at 4 pm on Sunday.

We have apples right up until Christmas, even after the fruitstand officially closes for the season. We are located on M-88 a little over 3 miles east of US-31 near Central Lake, Michigan, and on US-31 9 miles north of Elk Rapids.

For market prices & availability, check out what's in the Fruitstand this Week.

For a glimpse of life here at King Orchards, read what's happening This Week on the Farm.

Home farm (M-88 Market): 231-544-6479

Cresswell farm (US-31 Market): 231-264-0715

Toll free: 1-877-937-5464

Mailing address: 4620 N. M-88, Central Lake MI 49622

Directions -
from Traverse City - Go north on US-31 to Eastport. East on M-88 3 miles.
from Charlevoix - South on US-31 to Eastport. East on M-88 3 miles.
from Detroit - North on I-75 to Grayling; west on M-72 to Kalkaska; north on US-131 to Mancelona; west on M-88 past Central Lake
from Chicago - North on US-131 to Mancelona. West on M-88 past Central Lake.
from the Upper Peninsula - From the bridge go south 3 miles past Mackinaw City. Then south on US-31 to Eastport. East on M-88 3 miles.
from Gaylord - West on M-32. Two miles past Elmira M-32 briefly joins US-131 north; follow the signs and stay on M-32. Continue 6 miles, then turn left on Adams Road. In Central Lake turn right on Main Street, which is also M-88. Go three miles out of town on M-88.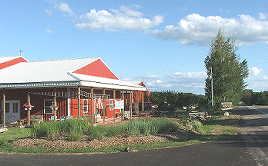 Traveling north through the state on US-131 or I-75? We are less than an hour out of your way. Take the scenic drive on M-88 and stop in for a visit.
Harvest Schedule (approximate)

Fresh strawberries-late June

Dark sweet cherries-early July
Light sweet cherries-early July
Tart cherries-mid July
Blueberries-mid July
Sweet corn-mid July

Apricots-late July, early August
Peaches-mid August
Nectarines-mid August
Clapp pears-mid to late August

Paula Red apples-early September
Ginger Gold -early September
Bartlett pears-early September
Jersey Mac apples-mid September
Gala apples-mid September
Bosc pears -mid September
Stanley plums-late September

McIntosh apples-late September
Honeycrisp apples-late September
Jonathon apples-early October
Empire and Cortland apples-early October
Jonagold apples-early October
Red and Golden Delicious-early October
Mutsu, Ida Red, Northern Spy-early October
Read about the family and the history of the farm >>
King Orchards purchases another fruit operation
From Traverse City Record Eagle, October 3, 2001

EASTPORT - King Orchards, a long-time area apple and cherry farming operation, has purchased the former altonen Orchard's North Farm Market at the intersection of Creswell and McLachlan roads just south of here.

Orchard owners - brothers John and Jim King and their wives Betsy and Rose - said they've wanted to establish a market on busy U.S. 31 for some time. The acquisition gives them two retail outlets for a variety of fruit they grow on their family farm. The new fruit stand will be open everyday until 6 p.m. and will be operated by Jim and Rose. It is now selling a variety of home-grown fall apples, cider, cherry concentrate, mums, Indian corn and other products.

The Kings' other fruit stand, along M-88 near Central Lake, is some three miles east of U.S. 31 and the family-owned orchard established in 1980 by John King. Situated along the hilly ridges of northwest Antrim County's drumlin country, the King orchards occupy the highest ground in that area. Because of its proximity to Grand Traverse Bay, the location provides ideal frost-resistance, cold air drainage and moderate spring and fall temperatures needed for fruit growing.

In addition to their retail outlets, the King family also markets and distributes fruit statewide. The orchard's popular cherry concentrate is sold nationwide.