home > family farming > Mike King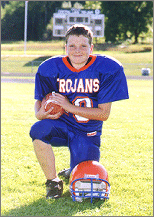 10-year-old is King of the hill
CENTRAL LAKE - Mike King has been crowned as the top NASTAR skier in his age group. Again.

The Central Lake 10-year-old pulled off a rare feat last month when he won the 9-10 Expert division in the National Championships at Park City, Utah, for the second year in a row. Because NASTAR (NAstar STAndard Race) uses a handicap system, the difference between racers is minimal. So winning two straight national titles takes skill and luck. And King had both.

"It was exciting," the fourth grader said. "I was ranked second in the nation, so I didn't think I would win. But I did it. "I couldn't believe it."

Matt Ellis, race director of the Antrim Ski Academy, called King "a fantastic kid and a phenomenal skier." "I've been working with him for four years," Ellis said. "He works hard and he's very dedicated, but he has a lot of natural talent. That's what separates him from everybody else. When we go up against other ski clubs, they know when Mike King is coming."

King's father, John, said Mike started skiing at the tender age of two, but it wasn't because John and his wife Betsy were hoping to create a phenom. Mike just tagged along when his older brothers Jack, now 18, and Frank, 13, and older sister Juliette, 17, went to skiing lessons. "He never did anything at that age to make you think he was going be a great skier," John King said. "But he's always been very determined. "When he was eight he was the quarterback of his Pop Warner football team with a bunch of 11-year-olds. So he's always been a little ahead. "He's just an athlete through and through," John said. "He's always kicking a soccer ball or bouncing a basketball. He's constantly working at something."

In the winter, that "something" is skiing. The first time Mike qualified for the NASTAR national championship last year, the Kings turned the trip into a family vacation. John said they were "thrilled" when Mike won, but his recent title came as somewhat of a surprise because he didn't carry the No. 1 ranking. "He beat everybody pretty good in his first run, then just stayed even the rest of the way," John said. "It was pretty hard for them to make that up."

Mike said he hopes to ski in the Olympics someday and maybe become a professional. Until then, he'll be content with another year as NASTAR'S King of the hill.