home > recipes > side dishes

Side Dishes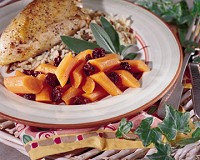 Carrots with Character
1 pound carrots, peeled and sliced
1/2 cup dried tart cherries
3 tablespoons maple syrup
2 tablespoons margarine
1/2 teaspoon ground nutmeg
1/4 teaspoon ground ginger

Cook carrots in water in a covered saucepan 8 to 10 minutes, or until tender. Drain well. Add dried cherries, maple syrup, butter, nutmeg and ginger to cooked carrots in a 2-quart saucepan. Cook, stirring occasionally, over medium heat, until mixture is hot and bubbly.

Note: A (1-lb.) package of whole baby carrots can be substituted for the sliced carrots. Makes 6 (1/2 cup) portions.
Sweet Potatoes with Cherry Glaze
2 medium sweet potatoes (7- to 8-ounces each)
2 tablespoons cherry juice concentrate (undiluted)
1 tablespoon brown sugar
1 tablespoon butter or margarine, melted
1/8 teaspoon ground ginger
1 green onion, sliced

Scrub potatoes and halve lengthwise; do not peel. Spray a baking pan with nonstick cooking spray. Place potatoes, cut-side down, in pan. Bake in a preheated 400°F oven 30 to 40 minutes, or until almost tender.

Stir together cherry juice concentrate (undiluted), brown sugar, butter and ginger. Turn potatoes cut-side up and brush with cherry mixture. Bake 5 to 10 minutes, or until tender. Sprinkle with green onion. Serve immediately. Makes 4 servings.

Nutrition Facts per Serving: 183 calories, 3 g total fat (2 g saturated fat), 8 mg cholesterol, 29 mg sodium, 37 g carbohydrates, 3.5 g fiber, 2 g protein. Dietary Exchanges: 2 starch, ½ fruit.
Onions and Cherries
2 tablespoons olive oil
2 medium onions, sliced
1/2 cup dried tart cherries
1 tablespoon brown sugar
1 tablespoon red wine vinegar
1/2 teaspoon dried thyme
Freshly ground black pepper, to taste

Heat oil in a large skillet over medium-high heat. Add onions; cook, stirring, 5 to 6 minutes, or until onions are light brown. Reduce heat. Add cherries; mix well. In a small bowl, combine brown sugar, vinegar, thyme and pepper; pour over onions. Mix gently. Simmer, covered, 3 to 4 minutes. Serve warm or at room temperature. Makes 4 to 6 servings.

back to recipe index | side dishes page two