home > recipes > side dishes > page two

Side Dishes -- page two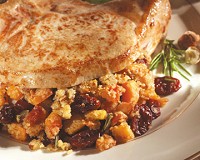 Cherry Butternut Squash Stuffing
3/4 cups Pancetta, finely diced
3/4 cup Unsalted butter
1 1/2 cups Onion, diced
4 1/2 cups Butternut squash, diced
2 1/4 cups Dried tart cherries
1/4 cup Fresh rosemary or sage leaves,chopped
3/4 cup Hazelnuts, toasted, skinned and finely ground
Bread crumbs If necessary
3/4 cup Chicken or vegetable broth
Salt and pepper To taste

Sauté pancetta 5 to 7 minutes, or until crisp. Remove pancetta to a large mixing bowl.

Add butter to pancetta drippings. Sauté onion and squash 3 to 5 minutes, or until semi-soft. Add cherries and rosemary; continue cooking until squash is soft. Add squash mixture to pancetta. Stir in hazelnuts and bread crumbs; mix thoroughly. Adjust moistness with broth, if mixture is dry, or with more bread crumbs, if mixture is too wet. Season with salt and pepper to taste.

Serving suggestions:
-- Use to stuff poultry, such as chicken breasts, Cornish hens, quail or squab.
-- Use to stuff meats, such as pork or lamb chops, or a pork or lamb roast.
-- Serve with trout or salmon
-- Replace bread crumbs with Parmesan or Gorgonzola cheese; use as a ravioli stuffing.
Squash Bake
2 acorn squash
1/4 cup butter or margarine, melted
1/2 cup dried tart cherries
1/4 cup chopped pecans
3 tablespoons firmly packed light brown sugar
1/2 teaspoon cinnamon

Cut each acorn squash in half. Remove seeds and fiber. Place cut side down in baking pan with small amount of water in bottom. Bake in a 350-degree oven 45 to 50 minutes or until squash is tender and can be pierced with a fork. (Or place squash cut side down in a microwave-safe container. Add a little water. Microwave on High (100% power) 5 to 7 minutes, turning dish once. Continue cooking, if necessary, until squash is tender.)

Meanwhile, combine butter, cherries, pecans, brown sugar and cinnamon. Heat on top of stove or in microwave oven until butter melts. Fill center of each squash half with one-quarter of the cherry mixture. Mix some of the cooked squash with the cherry filling. Serve immediately. Makes 4 servings.

back to recipe index | side dishes page one | side dishes page three