home > tart cherries in water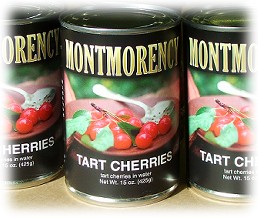 Montmorency Tart Cherries
Tart cherries (also called "sour cherries" or "pie cherries") in water is the traditional way to pack Michigan Montmorency tart cherries, and these nutritious red jewels have been a staple for baking and cooking for generations. No sugar, preservatives or artifical coloring added - just pitted tart cherries.

15 oz. can of premium tart (sour) cherries -
(each 15oz can equals 2 cups)

order

Frozen tart (sour) cherries by special order - please call toll-free for shipping quote.
1-877-937-5464

Want fresh sour cherries?
Come visit us in July, in the beautiful Grand Traverse area of northern Michigan - the "Cherry Capitol of the World." Sleeping Bear Sand Dunes National Park, award-winning restaurants and wineries, and beautiful Lake Michigan are all nearby, and there are over 200 family orchards growing more than 800 varieties of fruit. Dark sweet ("Bing" or "Black") cherries, Light Sweet ("Ranier") and Tart cherries are all ripening in July. Pick your own fresh cherries right off the tree. We wash and pit them right here for you.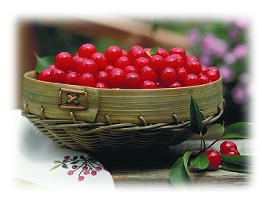 Order tart cherries online here

Tart Cherry Recipes
The Montmorency tart cherry is the traditional American baking cherry. Here are a few of our favorite recipes.
Sour Cherry Pie
Ingredients:
Pie Crust for 1 9" pie Top & bottom
4 cups tart pitted cherries (2 cans 15 oz. tart cherries, drained ) save 3/4 cup liquid from can.
1 cup sugar
1 1/2 Tbs. flour
3 Tbs. cornstarch
1 Tbs. grated lemon rind
juice of 1/2 lemon
2 Tbs. cold butter cut into small pieces
1/8 tsp. almond extract
Directions:
Heat oven to 400
Put cherries and juice in a bowl sprinkle in the sugar, flour, corn starch, lemon juice, rind , and almond extract.
Toss well and pour into pastry shell. Dot with butter and put on top crust.
Brush top crust with milk or cream, sprinkle on 2 Tbs. sugar, and cut a slit for steam.
Bake at 400 for 15 minutes then reduce oven to 350 and bake aproximately 3/4 hour until filling is bubbling and crust is nice and golden.
---
Tart Cherry Sour Cream Pie
Ingredients:
2 eggs, lightly beaten
1 1/2 cup sugar
1 cup sour cream
2 cups dried tart cherries
3/4 cup chopped pecans
1/2 tsp. almond extract
1/8 tsp salt
1 cup brandy
Directions:
Soak dried cherries in 1 cup brandy and 1 cup water overnight.
Combine all liquid ingredients and mix well. add the cherries and remaining ingredients.
Line a 9 or 10 inch pie plate with your favorite pie crust and pour in cherry filling .
Put on top crust and slit for steam to escape
Bake at 400 for 15 min and reduce oven to 325-350 for another 30-40 min.
A very rich and dense holiday pie!
---
Double Cherry Pie
Ingredients:
2 cans unsweetened tart cherries well drained
1 cup dried tart cherries
1 cup granulated sugar
2 tablespoons quick-cooking tapioca or cornstarch
1/2 teaspoon almond extract
Pastry for 2-crust, 9-inch pie
1/4 teaspoon ground nutmeg
1 tablespoon butter
Directions:
Combine canned cherries, dried cherries, granulated sugar, tapioca and almond extract in a large mixing bowl; mix well
Let cherry mixture stand 15 minutes.
Line a 9-inch pie plate with pastry; fill with cherry mixture. Sprinkle with nutmeg. Dot with butter.
Cover with top crust. Seal and flute edges.
Bake in a pre-heated 375-degree oven about 1 hour, or until crust is golden brown and filling is bubbly. If necessary, cover edge of crust with aluminum foil to prevent over-browning.
Note: 2 lbs. frozen tart cherries, thawed to room temperature and well drained, can be substituted for canned tart cherries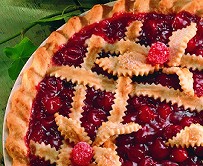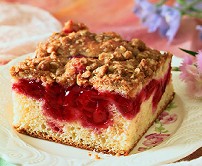 Straight from the Grower
King Orchards is a family owned and operated fruit farm in the heart of Michigan's cherry-growing region, actively growing over 75 acres of tart cherries
Dried tart cherries mixed with cashews, smoked almonds or honey roasted peanuts make a great snack or appetizer for family or unexpected guests.