home > cherry juice
Montmorency Tart Cherry Juice
Cherry Pie in a Glass!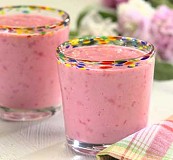 Cherries have been a popular food for centuries, and now research has demonstrated an amazing array of nutritional benefits derived from a diet that includes tart cherries.
Now you can enjoy the great taste of fresh Michigan cherries as a refreshing and healthful drink. Our Montmorency tart cherry juice concentrate is all natural, 100% cherries, with nothing added. It's like cherry pie in a glass - and so good for you!

We recommend a mixture of one ounce of cherry juice concentrate to 7 ounces of water for an 8 oz glass of cherry juice. King Orchards cherry juice concentrate is nothing but the fruit, so there really is no wrong way to drink it. Many of our customers drink it straight by the tablespoon. Some like it in yogurt, blended with another juice or added to lemonade or their favorite adult beverage. Cherry juice concentrate brightens up any recipe with true cherry flavor!
view nutritional facts for Tart Cherry Juice and Dried Cherries
Tart cherries are one of the few food sources of melatonin – a potent antioxidant that may help improve the body's natural sleep patterns. There are 4910 ng of melatonin in one ounce of cherry juice concentrate.

Other studies have shown that the numerous antioxidants and phytonutrients in cherry juice may decrease some of the symptoms of exercise-induced muscle damage.

Ongoing studies are exploring the role of cherries in promoting cardiovascular health.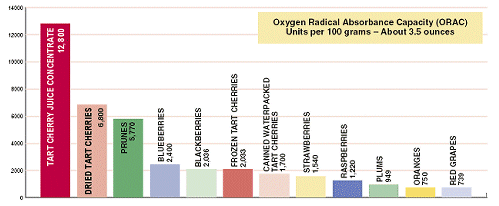 One Way to Enjoy the Goodness of Montmorency Tart Cherry Juice Concentrate is in a Cherry Smoothie!
Cherry Yogurt Smoothie

Here is a great way to enjoy healthful, 100% all-natural Michigan tart cherry juice.

1 cup non-fat plain or vanilla yogurt
1 ripe banana, peeled and sliced
1/2 cup orange juice
1/4 cup tart cherry juice concentrate
1 cup crushed ice

Put yogurt, banana, orange juice, cherry juice concentrate and crushed ice in the container of an electric blender or food processor. Puree until smooth. Serve immediately. Makes 2 (8-ounce) servings.

Note: This smoothie can be frozen in popsicle containers. Serve as a frozen treat, or allow to thaw and drink as a smoothie.

King Orchards Montmorency Tart Cherry Products.

Click on the pictures below to learn more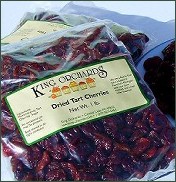 Dried Cherries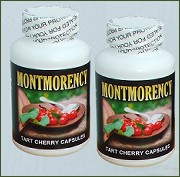 Tart Cherry Capsules
"How to get cherries" - click here
All of the cherries are described, and all of the ways to buy them.